Take Advantage of Five before Five: 'GRACE tasks' in ITSM
Event Title: Webinar titled "Take Advantage of Five before Five: 'GRACE tasks' in ITSM"
Organizer: EAITSM Inc.

Location: Online Webinar
Time: Sunday, May 8th, 2022, 05:00 PM - 06:00 PM Egypt time (GMT+2)

Attendees: IT Community Members in Egypt and outside
Speaker: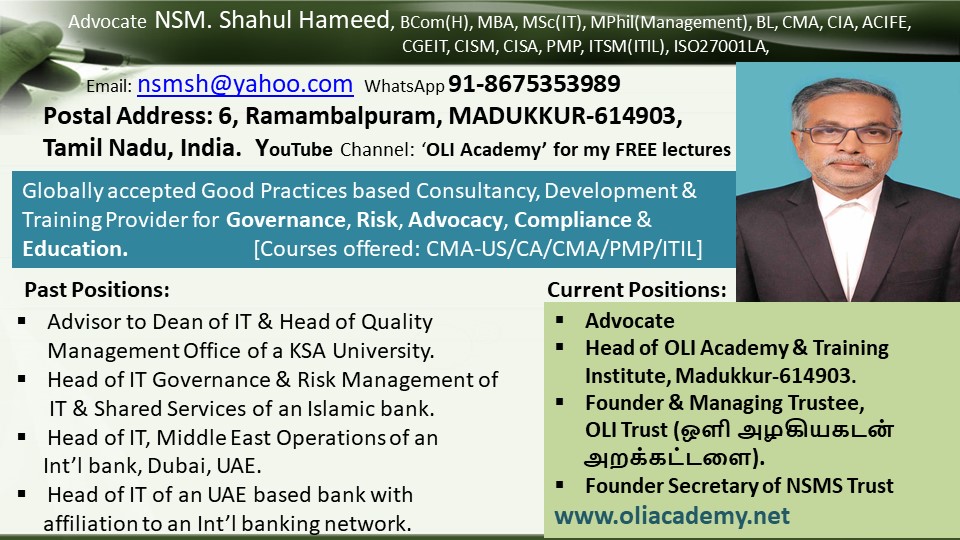 Abstract:
In this presentation, the audience will be motivated to look into valuable steps in Governance, Risk, Advancement, Compliance and Excellence of Operations and Service Management of IT. (called GRACE tasks as I have coined). During the one hour presentation, we will be focusing on the benefits of implementing controls for Governance of IT in line with the Business Objectives, Risk Management mainly focusing on the Operational Risk and Business Continuity, Advisable advancement areas of concern with a programmed approach, Compliance to regulatory demands and the organization wide accepted standards and policies; and Operational excellence of the IT Service management providing effective and efficient service quality.
Registration: Registration is open for free to the public. Please use the form below to register to attend this webinar.

YouTube Live Streaming Link: https://youtu.be/iqu0U1ez-sY
References:
Webinar Video Recording: TBD

Webinar presentation (PDF): TBD